Ann Arbor Civil War Round Table
News ~ Information & Events

AACWRT Program Schedule
Unless noted otherwise, we meet on 2nd Mondays, 7:00 PM, September - June at St. Joseph Mercy Hospital, in the Exhibition Room near the Administration Building Auditorium, 5305 Elliott Drive, Ann Arbor, Michigan. Meeting cancellation information can be obtained after 3PM on meeting date by calling WAAM-AM (734-971-1600), or WQKL-FM (734-998-1071).
2014-2015
September 8: John Gibney, "Yankees in the Cellar (Tales of a Reenactor)."
October 13: David Moore, "Wm. S. Rosecrans."
November 10: Shayne Davidson, "A Photo Album of USCT Soldiers"
December 1: Show and Tell Night---Our annual opportunity for members to shine forth!
January 12: Rob Stone, "Near as I Remember," Long-time re-enactor, military history enthusiast, and AACWRT member Rob Stone presents a lively, informed first-person program on the experiences of a typical Union Civil War infantryman, as seen from the vantage point of an aging veteran, recalling his adventures decades after the war's end.
February 9: Jim Epperson, "The Siege of Petersburg---Second Hatcher's Run and the Hampton Roads Peace Conference."
March 9: John Moore: "The Business and Economics of the Civil War"
April 13: Rob Girardi, "The Murder of Maj. Gen. William 'Bull' Nelson."
May 11: Roger Rosentreter: TBA (Also AA-CWRT 20th anniversary celebration)
June 8: Prof. Gregory Urwin, TBA
______________
Curious about past programs? You are invited to visit our archive page for a summary...
Coming or Current Regional Events

SE Michigan Area Civil War Round Tables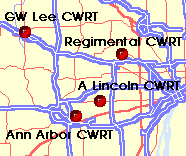 G.W. Lee CWRT - Howell Meets 3rd Tuesdays, 7:00 PM (with the exception of June, July, August and December), at the meeting room of St. Joseph Mercy Livingston Hospital, 620 Byron Rd, Howell, MI, between Grand River and M-59. Open Meeting.
For more information call Dave Finney, (517) 552-8733, or email Dave at ddf1942@sbcglobal.net.

Michigan Regimental CWRT - Farmington Hills
Meets last Mondays, 7:30 PM, at the Farmington Public Library, 23500 Liberty Street (Grand River & Farmington Roads) Farmington, Michigan. Contact Ken Baumann at the Ann Arbor Civil War Round Table meeting, or contact Jerry Maxwell at 248-363-1710, e-mail: max82507@msn.com.
Abraham Lincoln CWRT - Plymouth/Farmington.
Meets 3rd Thursdays, 8:00 PM, at the Plymouth Township Hall, 9955 Haggerty Road, Plymouth, MI 48170. For more information, or to confirm, call Liz Stringer, (248) 473-4118, or e-mail stringerl@aol.com.
Israel B. Richardson CWRT - Rochester Hills
Meets at 7:30 pm on the last Tuesday of each month from September through June at the Rochester Hills Barnes & Noble (2800 S. Rochester Road). For more information e-mail richardsoncwrt@cinci.rr.com.
Ann Arbor CWRT - Ann Arbor
Meets 2nd Mondays, 7:00 PM, September - May at St. Joseph Mercy Hospital, Administration Building Auditorium, 5305 Elliott Drive, Ann Arbor, Michigan. Everyone is welcome. For more information contact Ken Baumann kb64bau@sbcglobal.net.
JOIN US ! !
Copyright © 1997-2009 Michael Gay, 2010 James F. Epperson. All Rights Reserved. Reproduction in any form, in part or in whole is prohibited without written permission. The Webmaster and all past and present officers would like to thank Michael Gay for his work as the AACWRT's first Webmaster.
Created during March 1997. Published on March 11, 1997.
Changes last made on January 3, 2010.